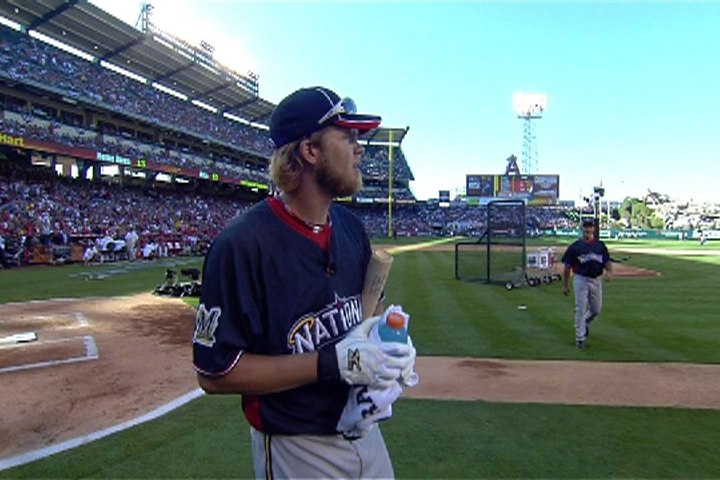 Hart's Derby showing
Duration: 00:02:50
7/12/10: Corey Hart blasts 13 total home runs in the Home Run Derby


ANAHEIM -- Corey Hart put on a show in the first round of the State Farm Home Run Derby with 13 home runs, eliciting "oohs" and "ahhs" from the power-hungry crowd at Angel Stadium. About 90 minutes later, when it finally came time for Round 2, Hart's home-run stroke had escaped him.
"I was trying to stay up and active," he said with a shrug.
But Hart was skunked in that second round and bowed out of the competition, missing a chance to give the Brewers back-to-back winners in the popular annual event. Prince Fielder won it last year in St. Louis, and this year's champ was Red Sox slugger David Ortiz, who bested Hanley Ramirez of the Marlins, 11-5, in the final round.
"I knew coming in that [Ortiz] was one of the favorites," Hart said. "I figured it would be either him or [Detroit's Miguel] Cabrera. I knew if I got up with [Ortiz] I wouldn't really have a chance.
"I usually don't hit a lot of home runs, but I got into a rhythm early. In the second round, I couldn't find it."
"Remember, it happened to me before, the exact same thing that happened to him," Ortiz said of Hart's performance. "I hit in the beginning, shut it down for a while and coming back up, especially a big guy like him, sometimes it takes more time to warm up and do your thing. I think he did a really good job at the beginning and put on a good show."
Swinging one of his Wisconsin-made sugar maple RockBats, Hart belted 13 homers in the competition's first round, tying Ortiz's second-round output for the best set of the night. After a first-swing "out" -- the hitters kept swinging away until they made 10 outs -- Hart connected for five home runs in a row, including three to center field.
He hit four in a row later on, and five of Hart's 13 long balls traveled farther than 450 feet. His longest blast measured 464 feet.
Ortiz, Ramirez and Cabrera joined Hart in the second round. Hart was last of that quartet to take his cuts, and needed eight homers to tie Ortiz and Ramirez.
"The first round was easy because we just had batting practice so I was a little more fresh," Hart said. "But it was awesome. I would definitely do it again, though you never know how many more chances you'll get."
Hart was the third hitter to appear in the Derby, after Chris Young of the D-backs hit only one home run as the competition's leadoff man and Vernon Wells of the Blue Jays hit two. When Hart stepped into the batter's box, he wasn't just hacking.
"There is definitely a strategy," said Sandy Guerrero, the longtime Brewers coach who served as Hart's pitcher. Guerrero helped Fielder win the event with 23 total home runs in St. Louis last year.