Dallas Stars
Who's In: GM Joe Nieuwendyk, coach Marc Crawford, Alex Auld (Ottawa), Karlis Skrastins (Florida), Jeff Woywitka (St. Louis), Warren Peters (Calgary)
Who's Out: Sergei Zubov (Russia), Joel Lundqvist (Sweden), Chris Conner (Pittsburgh), Steve Begin (Boston), Darryl Sydor (St. Louis), Brendan Morrison (Washington), Mark Parrish (tryout, Vancouver)

The feeling in Dallas is that they have enough of the pieces from their more dominant days earlier this decade, but the truth is that this team is in a period of transition. Team mainstay Mike Modano is in the final year of his contract, and many believe this to be his last year in the league with his 40th birthday coming up in a few weeks. Another key piece on
the time, netminder Marty Turco is also in the final year of his contract, and is coming off of a very disappointing campaign from a season ago. While many expect Turco to regain his normal dominant form, the Stars are a bit of a team without much of an identity right now.
The most important addition to the Stars' lineup this season is someone who has been on the roster for years. Captain Brenden Morrow, out for much of last season and the playoffs, proved just how important his presence is to the Stars' chances, as the team looked very flat without him. Now that he is back to full health, he gives the Stars a very big piece of their playoff puzzle, as well as a motivated and physical player, looking to turn the heads of Team Canada with the upcoming Olympic Games, as well the ones around the league. The Stars have a lot of youth, a good mix of veterans, and there's no doubt that they are a talented group, but with a new coach (Marc Crawford) and a lack of on-ice chemistry, Dallas will really have to pull it all together at the right time to have a shot at the playoffs. And even then, it is an outside shot.
Los Angeles Kings
Who's In: Ryan Smyth (Colorado), Rob Scuderi (Pittsburgh)
Who's Out: Tom Preissing (Colorado), Kyle Quincey (Colorado), Brian Boyle (NY Rangers), Matt Moulson (NY Islanders)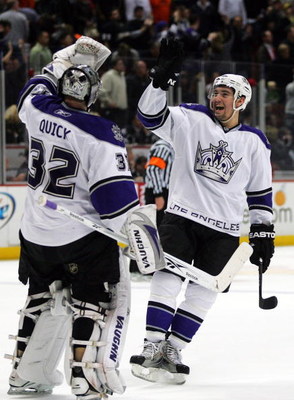 Probably the toughest team to peg in the Pacific Division (if not the Western Conference as a whole), the L.A. Kings have finally been able to pull together a nice string of high draft choices that appear ready for the big leagues. The biggest issue facing the Kings is their lack of offensive punch. With a miserable 207 goals in the '08-'09 campaign, the Kings will have to score a lot more to make their playoff dreams anywhere close to a reality, which is where the young Forwards on the team will really have to step it up. However, while the depth at the Forward position is highly suspect, the Kings finally have a reliable guy between the pipes in Jon Quick, and a gritty veteran Winger in Ryan Smyth that have the Kings thinking playoffs for the first time in six years.
With youngsters Anze Kopitar, Dustin Brown, Jonathan Bernier, Drew Doughty, and Thomas Hickey on the rise, it will be up to them to set the pace for the team heading into the early part of the season. While a tough task to ask of players who have hardly played very meaningful minutes in the NHL, it would really set the foundation for this young team moving forward. The Kings could very well be on the outside looking in come playoff time, but they have just as much of a shot as any other team in the West to break into the top eight outside of Phoenix or Colorado.


Phoenix Coyotes
Who's In: Coach Dave Tippett, Jason LaBarbera (Vancouver), Radim Vrbata (Tampa Bay), Vernon Fiddler (Nashville), Adrian Aucoin (Calgary), Lauri Korpikoski (NY Rangers), Jim Vandermeer (Calgary), Taylor Pyatt (Vancouver), Robert Lang (Canadiens)
Who's Out: Wayne Gretzky (resigned), Enver Lisin (NY Rangers), David Hale (Tampa Bay), Todd Fedoruk (Tampa Bay), Nigel Dawes (Calgary), Brian McGrattan (Calgary), Brandon Prust (Calgary), Steven Reinprecht (Florida)
Not a whole lot else could've went wrong for the Coyotes this past offseason. Former Coach Wayne Gretzky resigned just weeks before the start of the season, and rumors swirled about the team being sold and relocated to Canada amid reports that it has been hemorrhaging money for several years while taking an abrupt tailspin towards bankruptcy. With all of that hanging over the Coyotes' head, the bright side of things is that they have a team that is a pretty talented group. Similar to the Pittsburgh Penguins back in 2005, who facing money troubles, low attendance figures, and an uncertain future, were able to hold tough with the young talent they had, and build a solid team who would go on to win the 2009 Stanley Cup. While the Coyotes don't yet have the proper leadership and management in the front office for that scenario to seem likely, nothing is impossible for a team that finished just four points behind 3rd place in the division a season ago.
With the salary cap currently in good shape, Phoenix has some flexibility moving forward, and will likely try and move current team cornerstone Shane Doan to further build towards a future worthwhile. With Ilya Bryzgalov's inconsistencies in the net from a year ago, Phoenix never really had a shot, but a late-season peak in performance has got to give the team a little hope. New coach (and former Stars' coach) Dave Tippett has a lot of work to do, but key youngsters Kyle Turris and Viktor Tikhonov champing at the bit in the minors, all is not lost just yet. But as a team that has to feel like they have a huge chip on their shoulders with the events of the past several months, the Coyotes could feasibly play that way and surprise us all. While it is more likely the distractions will be too much to handle, the Coyotes can find some solace in the fact that it's not as much the men on the ice's fault, but a long line of mistakes by management and NHL Commissioner Gary Bettman.