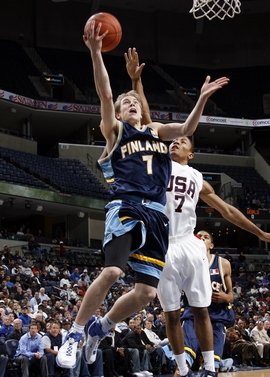 Finishing up with the final three picks in our NBA Fan Mock Draft is Jon making the pick for the Phoenix Suns...

Last 5 Picks

24. Suns chose Marco Belinelli
25. Jazz chose Arron Afflalo
26. Rockets chose Javaris Crittenton
27. Pistons chose Aaron Brooks
28. Spurs chose Jared Dudley
Considering: Petteri Koponen, Nick Fazekas, Marc Gasol, Rudy Fernandez, Derrick Byars, Daequan Cook, Marcus Williams
With this pick, the Suns can go 2 different directions. They could go with a big guy like Fazekas or Gasol. Or they can go with a point guard to learn under Steve Nash.
After passing up a point guard with the last pick, I think you have to pick one here.
Once again, I'm going to go international here. Koponen is the pick. I like what I have heard about him. A pasty foreign guy with great vision, high intelligence, a positive leader on the court... who does that remind you of? Plus he plays for a team called the Honka Playboys. How can you not like that?
At only 19, he won't be ready to take over any time soon, but he will have a couple of years to learn from the best. Perhaps he is not the best short-term pick, but you have to draft for the future as well.
The pick: Petteri Koponen, PG, Finland
Up next: Philadelphia 76ers

Who would you select for the Phoenix Suns?