It's finally here: the 13th installment of the live fight show that is part of what took the Ultimate Fighting Championship to new heights. Returning to Colorado – the birthplace of the UFC – to the Broomfield Event Center is the largest organization in the world.
Kenny Florian
and
Joe Lauzon
will square off in a lightweight bout to end the night, but this card is packed with 11 other fights, each and every one of them more compelling than the last. The event is going to be three hours on Spike TV, and it will be followed by the premiere of The Ultimate Fighter 7, where
Forrest Griffin
and
Quinton "Rampage" Jackson
will be coaches before they fight for Jackson's light heavyweight title this summer. This will be a great night for any fight fan, and you'll be sorry if you miss it. Let's get started with the breakdown.
WW:
Anthony "Rumble" Johnson (4-1) vs. Tommy Speer (9-2)
– Johnson is a big fighter at welterweight, but Speer is one of the biggest and most powerful 170-pound fighters that I've ever seen. Speer wins by KO in the middle round.
WW:
Roman Mitichyan (5-1) vs. George Sotiropoulous (8-2)
– Both were participants on TUF 6, but Mitichyan had to leave before he got to fight because of an injury. Sotiropoulous was up and down on the show, and I think that Roman could have won the entire thing. I'm taking Mitichyan by submission.
LW:
Samy Schiavo (10-4) vs. Clay Guida (22-9)
– Guida is the type of fighter that impresses and then loses close fights. Fortunately for him, Schiavo is new to the UFC and isn't expected to do much. Guida wins by early submission in this one.
LW:
Jeff Cox (9-4) vs. Manny Gamburyan (7-2)
– Manny made it all the way to the finals as a huge underdog on TUF 5 before losing to Nate Diaz because of an injury. I have no doubt that he would still like to fight Diaz, and Joe Silva (UFC matchmaker) should make that fight if both win on this card. Cox will be outmatched by Manny in this one and will lose via an early KO or TKO.
LW:
Ryan Roberts (8-2) vs. Marcus Aurelio (15-5)
– Roberts was a late replacement in this fight for and is relatively inexperienced compared to Aurelio, who has been fighting since 2002 and is a Pride veteran. Roberts experiences Octagon jitters in this one and gets submitted early.
WW:
Josh "The Dentist" Neer (23-6-1) vs. Din Thomas (20-7)
– Both of these fighters are very experienced, but I've never really been impressed by Thomas. Neer, on the other hand, is well-rounded and will probably look to stand up with the ground specialist Thomas in this one. If he does, he'll get the late KO.
LW:
Gray Maynard (4-0) vs. Frank "The Answer" Edgar (8-0)
– Both of these fighters shot up the UFC lightweight division in 2007, and they are both looking to stay hot in 2008. Maynard was on TUF 5 before losing, and Edgar could be in line for a title shot within a year if he impresses in this one. I'm taking Edgar in what could be the fight of the night by decision.
LHW:
James Irvin (13-4) vs. Houston Alexander (8-2)
– Let's just say that that I'm glad I'm not James Irvin. Alexander experienced a meteoric rise in 2007 after earning consecutive first round knockouts, but he was knocked out himself by
Thiago Silva
last November. Alexander is a huge fighter at 205 pounds, and he's extremely powerful with great hands. Irvin, on the other hand, is very athletic. Unfortunately for him, his strength – punching – is also Alexander's strength. And Alexander has the upper hand – by a lot. This one will last less than two minutes, with Alexander most likely winning via stoppage.
LW:
Kurt "Batman" Pellegrino (11-3) vs. Nate Diaz (8-2)
– Diaz is the TUF 5 champion and is a big favorite in this one, but Pellegrino is not to be taken lightly. Diaz is a Cesar Gracie disciple, but I'm not sure if I've ever seen a Gracie fighter be as well-rounded as Nate is. Pellegrino is a wrestler with good jiu-jitsu, and he took
Joe Stevenson
to a decision, actually breaking Joe's hand in the process.
Diaz will most likely look to take this one to the ground so that he can work on something like a triangle or armbar, but Pellegrino wants to find a way to control Diaz and impose his will. This one will be back and forth, but I just think that Diaz is too slippery for Kurt to keep down, and he'll either get a submission out of nowhere or earn the decision.
LHW:
Matt Hamill (3-1) vs. Tim Boetsch (7-1)
– This is a very interesting fight. Hamill, who is one of the strongest wrestlers ever to step foot inside the Octagon, is coming off of a horribly judged decision loss to Brit
Michael Bisping
(in England, nonetheless), and I'm thinking that he isn't too happy about that. Boetsch impressed a lot of fans with a win over
David Heath
at UFC 81, using unorthodox striking in the process along with an incredible slam to do so.
Hamill is strong. Just ask
Tito Ortiz
. Hamill was impossible to take down when he was on TUF 3, and he even stuffed Tito's – who was his coach – takedowns at points. On the flipside, Boetsch was nailing David Heath with knee after knee in his last fight and threw in some punches as well, and Heath didn't even seem to be fazed. That shows to me that there was little to no power behind the strikes that Boetsch was throwing. He throws what are called "arm punches" and "leg kicks" – that is, he doesn't use the entire force of his body behind his striking. Sure, they might sting a little, but they aren't the type that is going to knock a fighter out, especially not a tough guy like Hamill. Matt will take this one to the ground and grind out a decision.
WW:
Thiago Alves (13-3) vs. Karo Parisyan (18-4)
– I've been back and forth and back and forth on this one. Basically, it comes down to the fact that Alves is an exciting fighter, while Karo is far from a main draw in that category. Based on that factor only, it would be easy to pick Alves in this one. But Parisyan has been around for awhile, and he is in line for a title shot if he wins this fight and maybe one more.
Like I said, Parisyan has a very "boring" fighting style. He is a judo expert, so you may get a few exciting throws from him here and there, but he is a lay n' pray fighter other than that. Alves has some of the most devastating leg kicks in MMA, and he has destroyed fighters like
Chris Lytle
using them. My pick might change before this fight happens, but right now I have Alves with the upset by decision.
LW:
Kenny Florian (8-3) vs. Joe Lauzon (16-3)
– Many of you already know who Kenny Florian is. He made it to the finals of TUF 1 (at 30 pounds above his natural weight of 155 pounds) before losing to
Diego Sanchez
and has been near the top of the lightweight division since. Lauzon has more pro fights than Florian, but he toiled on some of the smaller shows for a few years before getting his shot on TUF 5 (where he made it to the semifinals before losing to Manny Gamburyan).
Lauzon is a ground specialist and is more one-dimensional than Florian at this point in his career. Neither of these fighters looks very physically imposing, but Lauzon is one of the very few fighters that actually look like he could get beat up by Florian on the street. This is a very compelling fight, but I have to think that Florian will find a way to submit Lauzon since "Kenny Florian finishes fights."
MMA News
-
Fedor Emelianenko and the UFC have agreed to verbal terms on a contract
.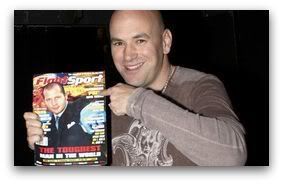 (April Fool's)
-
Josh Koscheck signed a new deal with the UFC and will face Chris Lytle next
. Koscheck became a free agent after his fight at UFC 82, and it was obviously one of Dana White's priorities to re-sign Koscheck, who looks like he may have turned a corner in his career after a dominating win a month ago. Koscheck could eventually make it into title contention, and I'm thinking that the UFC would also like to cash in on a Diego Sanchez vs. Josh Koscheck Part 3 (they fought in the semis on TUF 1) sometime in the future. This was a great move by the UFC.
-
Mark Kerr and Ricco Rodriguez have been added to the first YAMMA Pit Fighting card on April 11
. Kerr will face Oleg Taktarov in one of the Master's Superfights (Butterbean vs. Gary Goodridge will be the other fight), and Rodriguez has been added to the 8-man heavyweight tournament that will decide the org's first heavyweight champion. There is also news about the new cage that the org is debuting in that link.
-
Tim Sylvia and Ben Rothwell both signed with Adrenaline MMA (formerly M-1 Global)
. My fellow MMA bloggers on this site have already talked about this story, and I agree with them that this is a joke and is a bad move for both of these fighters. Adrenaline MMA has one other fighter signed (a lightweight), and they recently released Fedor Emelianenko (although he never even officially signed his contract). Even worse is the fact that Monte Cox, who runs Adrenaline, is the manager for both of these fighters. Conflict of interest? Damn straight.
Well, that's it for now folks. Enjoy the fights and the debut of TUF 7 tonight. I'll be back tomorrow to break it all down.
Let's fight!