Entering the 2013 season, it was widely believed that the Oakland Raiders were, by far, the worst team in the National Football League. Yet, after just two weeks, there's no question as to who ranks dead last in the NFL power rankings. It's the Jacksonville Jaguars.
This is no ordinary bad team, however. Through two games, Jacksonville, with two different quarterbacks (Blaine Gabbert and Chad Henne), have scored a total of nine points on offense. Nine. It's not as if Jacksonville is completely devoid of weapons on offense, either. Maurice Jones-Drew is an established, big-time NFL running back. Justin Blackmon was an absolute star receiver as a college player at Oklahoma State and enjoyed some success last year, including a game where he had over 200 yards receiving, and Cecil Shorts, while not a highly ranked wideout, is a speedy, dangerous receiver that defenses have to be aware of. However all of that is null and void with the black hole this team has at quarterback.
It's gotten so bad that an Orlando television station, which is contractually obligated to air all Jaguars games, apologized "for the inconvenience" on Sunday to those subject to watching this struggling Florida team.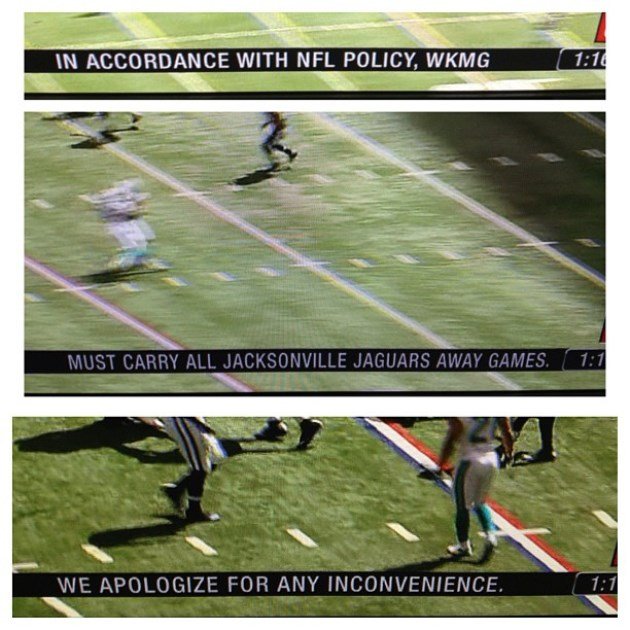 The point of desperation, however, may have reached it's apex Monday afternoon when a group of Jaguars fans held a rally in the parking lot of Everbank Field imploring general manager Shahid Kahn to sign, you guessed it, Tim Tebow.
While it's nearly impossible for the offense to maintain this pace of ineptitude throughout an entire season, I just do not see how the Jacksonville Jaguars don't wind up with the #1 overall pick in next year's draft. I don't care how highly thought of defensive end Jadeveon Clowney is, the Jaguars need a quarterback, and if they don't use this pick on Teddy Bridgewater, they have even more problems than I thought.