I was watching an old NBA game the other day, game 7 of the 1984 NBA Finals between the Lakers and Celtics. It was the first time I'd ever actually watched more than just snippets of Magic, Bird, Kareem, and the rest of the all-time greats in that game. Despite having to suffer through standard definition television, it was a blast and an educational experience that every basketball fan should have.
What stuck out the most -- more than Magic's effortless Sportscenter top 10-worthy passes on nearly every
possession or Bird's rebounding prowess despite his lack of hops -- was what the announcers talked about. Or, rather, what they didn't talk about.
It was the culmination of a personal rivalry that had been brewing for five years. It was finally Bird vs. Magic. After the game, the battle between the two was discussed only briefly and it was hardly mentioned during the game. Compared to today's television broadcasts and general perception of pro sports, the focus on the individual stars was absent.
In that 1984 game, the Lakers were on the verge of a great comeback, but Magic Johnson had two costly turnovers within roughly the final minute of play. And when the Lakers absolutely needed a score, Kareem missed a little sky hook. Obviously the whole sports universe was completely different then, but I couldn't help think about how today's stars would be torn apart by the media if they failed in a similar situation.
Everything today's stars do in crunch time or in a big game becomes "legacy altering" or "career changing". Every game concludes with discussion of what Michael would have done or whether a specific game's stat line indicates that a player has certain character flaws and mental weaknesses.
The intense focus on historical significance and individual accomplishment is clearly a side effect of the 24/7, multi-billion dollar sports industry and LeBron James -- more than any athlete in history -- has been the recipient of both the positive and negative aspects of this attention.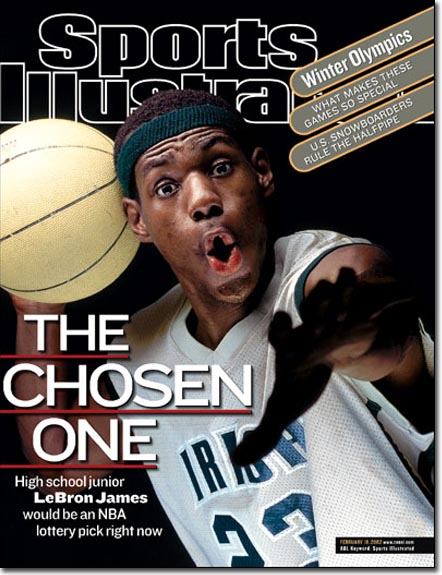 He's become one of the most hated athletes in the world because of a televised announcement followed by a celebration aimed at exciting the local fan base. In addition to these two PR blunders, he has been criticized for being great but not being the greatest ever.
LeBron has been an elite player his entire career and the best player on every team he's been on. But, because we compare him to an image of him that has been created by a post-MJ sports culture, his accomplishments are minimized .
Remember this SI cover? LeBron was the most hyped prospect ever. He was the top prospect as a sophomore and his high school games were available on Pay Per View. According to an ESPN article from December, 2002, LeBron was the subject of more internet searches than any NBA player, and that was six months before the Cavs took him in the '03 draft.
In that article, his high school coach told ESPN that he was worried about LeBron, that the pressure to succeed could set him up for failure.