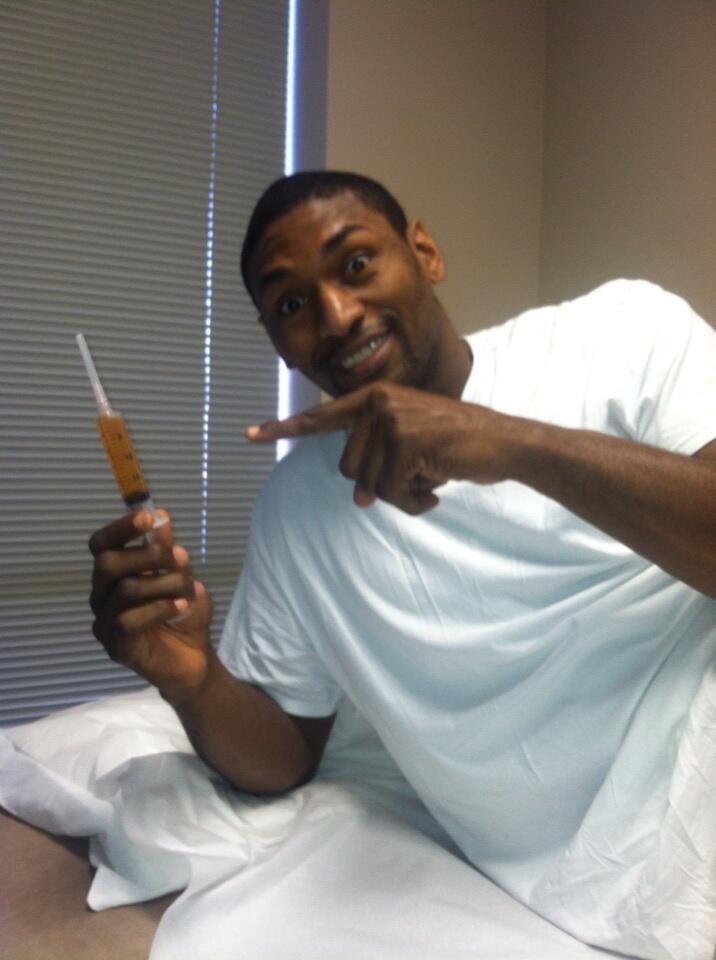 It was pretty miraculous that Metta World Peace was able to come back only two weeks after he got surgery on his meniscus, but even he said he came back too soon.
Now, when the Los Angeles Lakers need stability and a defensive presence most, World Peace has said that he won't play in game 4 against the San Antonio Spurs. He said:
"I was the weak link tonight [in game 3]... Then these guys will be at full strength. We'll win on Sunday."
The morning of game 3, the forward posted some pictures of the 20 CCs that was drained from a popliteal cyst in his leg, which wasn't related to his knee.
World Peace was also brutally honest about his game 3 play and his decision to likely sit in game 4,
stating
:
"I wasn't effective. There's no sense when we got guys that can win, why not let them win. We'll win Sunday, then I'll be better and then go to San Antonio [for Game 5 on Tuesday] and I'll be really good that day. D'Antoni made a great decision on pulling me out the second half. It's not about telling him, it's not about me deciding [not to play], it's about what's best for the team. That's the only thing that matters."
That made D'Antoni's decision to sit World Peace even easier, since he'd gone 0-6 in the first half of game 3 and grabbed only one rebound.
World Peace could play in game 5, if the Lakers make it that far, but if not, then he'll have to see if he wants to pick up his player option and risk getting amnestied, or test free agency.
It's great that World Peace has the wherewithal to take himself out of a game when he knows that he's more of a hindrance to his team, however at this point the Lakers are down to the bottom of their bench that was already a liability from the beginning of the year.
It's not over until it's over, but especially with World Peace out, they'll struggle even more defensively, and will have to rise to the occasion.