The original Olympic games were designed to be a test of the true warriors. As much as they were meant to honor great athletic endeavors, they were also a tribute to the elite combatants of their era. In modern-day games, things have changed drastically. It's the swimmers, the sprinters and the somersaulters who are elevated to celebrity status every 4 years. Obviously, there are plenty of other sports, and there are even some combat sports, like judo, taekwondo, wrestling and boxing. But what about the one sport that is the embodiment of modern combat?
The sport of mixed martial arts (MMA) has enjoyed a meteoric rise in popularity lately, mostly due to the remarkably successful marketing of the UFC, currently the largest MMA promotion company in the world. UFC President Dana White discussed the possibility of MMA in the Olympics, and
was ecstatic at the thought
. He views it as a long-term goal, and doesn't think it could happen anytime soon... but why not?
The summer Olympics already feature boxing, judo, wrestling and taekwondo. These are all sports that make up mixed martial arts as a whole. Many athletes have parlayed a career in each of these disciplines into a successful MMA career. Nearly all professional fighters are extremely proficient in one or more of these events. So why not take MMA to a new level of popularity and legitimacy, by introducing it into the Olympic games?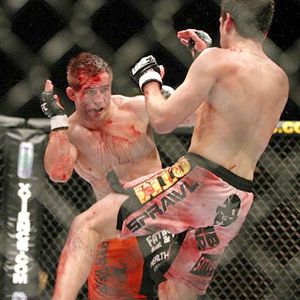 The answer is probably quite simple. A large segment of the population still views MMA as "human cockfighting," as presidential hopeful
John McCain so eloquently put it in 1998
. While boxing is referred to as "
The Sweet Science
", mixed martial arts is branded as barbaric and uncivilized. Even though it incorporates "respectful" martial arts such as judo, wrestling, jiu jitsu, boxing and more, many people aren't willing to accept the blood and "gore" that MMA provides. While many MMA fights are much bloodier than your average boxing match, many claim that boxing is far
more damaging
in the long term
.
Another reason is the unabashed contempt that many fighters have for each other. While many fighters show the utmost respect for their opponents, there are still guys like Tito Ortiz who will go out of their way to embarrass an opponent, before or after a fight. This is obviously not the "Olympic spirit". But wouldn't MMA's addition to the Olympics help to foster a more sportsmanlike attitude among those in the sport? The Olympics are widely known as a place for not only the best athletes, but the most sportsmanlike athletes as well. Most of them are a model of class and dignity. It couldn't hurt for some of that to rub off onto the world of mixed martial arts.
Other factors could obviously be contractual issues, timing, and competitiveness. The UFC failed to sign heavyweight superstar Fedor Emelianenko because they had issues with him fighting in an annual tournament in Russia. The Olympics would add a whole new twist to that.
If you look at it objectively, MMA could end up being exactly what the Olympics is all about. Imagine a middleweight medal round featuring Anderson Silva fighting for Brazil, Rich Franklin fighting for the USA, Michael Bisping for England, and Yushin Okami for Japan. Wrap your mind around Mirko Cro Cop representing Croatia, Randy Couture and Brock Lesnar fighting for the USA, Fedor Emelianenko and Andrei Arlovski for Russia, Fabricio Werdum and Antonio Nogueira for Brazil, Cheick Kongo for France in the heavyweight division... the possibilities are incredible.
It might not be time right now, but it's clear that someday mixed martial arts needs to have a place in the Olympics. It's already there, just split up between several events. Why not go all the way?
UFC President Dana White on MMA in the Olympics: 'I Hope I'm Alive to See It' [AOL Fanhouse]