There are many teams that have performed in the first quarter of the season exceptionally well and others that need to step it up a notch. In this, I'll state my take on four of the teams that stand out, whether they're hot or not.
Who's Hot: Anaheim Ducks and Buffalo Sabres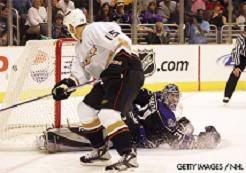 Anaheim Ducks Just because they aren't "mighty" anymore, doesn't mean they can't put up huge points like they are right now. You can't get much hotter than only two, count them, only two regulation losses in 27 games played. They are also are 2nd in the league in the Goals For catagory with 96 goals. They are only behind none other than the Buffalo Sabres. They are first in the Western Conference with 42 pts.
Buffalo Sabres Are the new logos bringing some good luck? Not only did the Ducks change theirs, so did the Sabres. The Sabres possess the highest average goals per game in the NHL with an average of 4.16. That certainly has an enormous influence on their 20-3-2. Not to mention they have 8 players with 15+ points on their roster. They have a 7-2-1 record in their last 10 games. They are first in the Eastern Conference with 40 pts. It is safe to say that they are one of the top 3 teams in the league.
Who's not: Columbus Blue Jackets and St. Louis Blues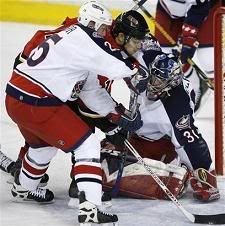 Columbus Blue Jackets The Blue Jackets are dead last in the Western Conference with a record of 6-16-2. They have the lowest goals per game with a 2.08 average. In relation, they have been shutout 6 times this season, and NHL high. On a positive side, they have young team with a lot of potential, they should be a force in the NHL in the coming years.
St. Louis Blues The St. Louis Blues are 14th in the Western Conference with 17 pts. The Blues let up an average or 3.40 goals per game, 3rd worst in the NHL. They have a goals for/goals against differential of -26, the 3rd worst in the NHL. In their last 10 games, they are 3-7-0. They do have solid players up front such as Keith Tkachuk, Billy Guerin, and Doug Weight but only Guerin has reached 10 goals this season

Note: Stats as of 12/2 3PM EST

Also, be sure to vote in this week's NHL Power Rankings to order your top 10 teams