THE NEW YORK JETS HAVE FOUR QUARTERBACKS ON THEIR ROSTER. NONE OF WHOM HAVE BEEN NAMED THE WEEK 1 STARTER. HAVING TOO MANY QBs & NOT ONE STAR HAS BEEN AN ISSUE SINCE BROADWAY JOE.
As the old football adage goes, if you have two quarterbacks you don't have one. In the case of the New York Jets, who recently shuffled Graham Harrell for Brady Quinn, what does it say if you have four?
Mark Sanchez. Geno Smith. Quinn. Matt Simms.
Two have never started a professional game of meaning. The other two are former first-round picks who have floundered their lofty expectations and fallen into football anonymity. All of them, however, are not considered to be the answer to any of 2013's questions as the Jets are preparing for their Week 1 opener against Darrelle Revis and the Tampa Bay Buccaneers.
In a period that many football experts are referring to as the 'golden age for quarterbacks', the Jets quarterback position is looking more aluminum than gold.
"We might be heavy in some positions, [but] we're obviously light in other positions," head coach Rex Ryan said in his Monday press conference.
Being light at the quarterback position is something Jets fans have grown accustomed to since they said goodbye to Broadway Joe Namath and his super guarantee. Since Namath's last game in 1976, the Jets have had at least two quarterbacks start at least one game during the regular season in 22 of the next 36 years.
And 2013 is shaping up to be the twenty-third season.
With Sanchez still yet to throw a pass since suffering a right shoulder injury on August 24 against the New York Giants, logic dictates the rookie Smith will get the starting nod against the Buccaneers.
When referring to the Jets, however, thinking logically is hardly, well, logical. Ryan, usually candid with the media, has been unusually quiet on the topic of who'll be starting Sunday -- something that has been peeving media members since Day 2 of the NFL Draft when they selected Smith 39th overall.
"Let's just let this thing play out and we'll see number, if Mark can practice. I don't want to assume anything. We'll lean on the trainers and the doctors, and if Mark can practice then maybe our answers will be different on Wednesday than today."
Wednesday may be too late for the Jets season and, perhaps, Ryan's tenure in New York. Former Jets head coach and current ESPN personality Herm Edwards has repeatedly stated that the teams that consistently produce are the teams that are set at the quarterback position. It's the only singular position that can directly affect the outcome of a game.
It's the only position the Jets have, historically, never been able to figure out -- long before Sanchez began committing turnovers at a league-high rate. With brief stints of brilliance from the Ken O'Brien's, Vinny Testaverde's and Chad Pennington's of yesteryear peppered in their history, visions of Brooks Bollinger, Kellen Clemens, Quincy Carter, Rick Mirer, Bubby Brister and Richard Todd haunt Jets fans over the years.
First year general manager John Idzik, stuck with the complications of Sanchez's albatross-like contract hanging over his neck, further complicated the quarterback situation by bringing in journeyman game manager David Garrard on March 11th. Signed to push Sanchez for the starter's role, Garrard, 35, hadn't played since 2010 due to chronic knee and back issues. Yet Idzik and the Jets brass fully believed he could unseat Sanchez in a training camp position battle.
Idzik never got a chance to see that happen. Garrard retired just two months after signing a two-year contract -- the first signing by Idzik as a Jet -- citing chronic knee issues holding him back from competing at 100%.
Younger and healthier quarterback options were available at the time Idzik was looking at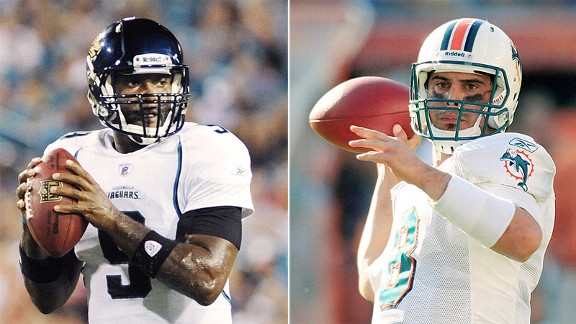 Garrard -- guys like Jason Campbell, Matt Moore and Quinn were free agents with Alex Smith and Matt Flynn available on the trading block. All of them could have pushed Sanchez out of the starter's role and allowed Smith to develop on the practice field. But now, Smith may be forced to travel the same road as Sanchez while being asked to avoid the potholes he previously stumbled over.
Now Idzik, Ryan and the Jets were forced to bring in Quinn just six days prior to the start of the regular. In all likelihood Quinn will be nothing more than a veteran safety valve should Sanchez's shoulder be worse than initially diagnosed, but Quinn wouldn't be left to cram Marty Mornhinweg's system in his head if he went to New York instead of spending training camp with the Seattle Seahawks.
"I've got a lot on my plate," Quinn said Monday. "I just got here late last night and I'm still trying to get adjusted to everything."
The best circus act this side of Dallas will continue to be on display as long as the quarterback carousel continues to turn. Something Ryan, now in his fifth year as a head coach, has yet to fully grasp -- or do anything to stop it.
"Being my fifth year, there are some things that maybe I've learned, timing of things might be better. I've probably learned a bit from that through the years, maybe," Ryan said.
Maybe he has. And maybe he hasn't.
The quarterback position has been the weak link Ryan's four previous years with the Jets -- with the quarterback play more-than-likely costing the organization at least one Super Bowl victory. Whether its Sanchez, Smith, Quinn or Simms the quarterback play may cost Ryan his job.