Rob Gronkowski is not about to let that pesky cast on his arm get in the way of his Las Vegas nightlife, which apparently includes bodyslamming his friend while dancing onstage.
TMZ reports the season of "Gronk"—coinciding with the offseason of Rob Gronkowski—is very much in full swing.
It seems the Patriots tight end was at XS nightclub in Vegas on Sunday night, no doubt letting off a little steam after watching the Ravens win the Super Bowl.
The website has video of the incident in question, for those who have never seen Gronk dancing with his shirt off. There may not be many of you left.
You will see Gronk shaking and moving until he decides to lift up his buddy and slam him to the ground, because nothing says awesome party like watching two bros go full WWE on each other.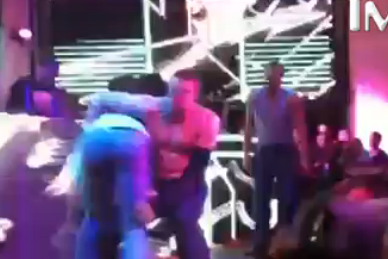 Photo Credit: TMZ
As the report reminds us, Gronkowski recently signed a "$54 million six-year contract extension in June—broke his forearm last season, then injured it again during the Pats' first playoff game against the Texans."
Yes, he may have a very secure cast on his arm and it looks like the slam was fairly benign. Still, that's an expensive forearm. Perhaps he should cut out the wrestling moves until he is healed. Hell, maybe until after he retires.
This was a busy week for Gronk, because Deadspin caught him partying—shirtless of course—back in Baton Rouge just last weekend.