The New York Yankees have made the playoffs for 13 straight seasons. But short of a miracle, that streak will end this year. Coolstandings.com
gives them a 3% chance
of making the playoffs. They would need a collapse of epic proportions from the Rays or the Red Sox, and maybe also the Twins or the White Sox. They would also have to play out of their minds from now until the end of the season. Judging by what we've seen in the last few weeks, that's simply not going to happen.
So what exactly happened to
this $209M juggernaut
? How does a team with such high expectations and such a rich history of success find themselves on the outside looking in? This is a team with 14 current or former All Stars, 6 players who took home $15M or more this year (3 were over $20M), and a manager who showed an incredible ability to maximize effort from his players in 2006, when he took a terrible Marlins team dangerously close to the playoffs. This was supposed to be the year that they unleashed Phillip Hughes, Ian Kennedy and Joba Chamberlain on the baseball world, as the beginning of their transformation from a squad of mercenaries to a younger, home-grown squad with equal talent.
Injuries played a huge role, as the Yankees saw Chamberlain go down with a shoulder injury earlier this month, joining Hughes, Jorge Posada, Hideki Matsui, Chien-Ming Wang, Alex Rodriguez and Melky Cabrera on the list of Yankees who have spent significant time on the DL.
Ian Kennedy fell far below the Yankees' expectations, proving that he definitely needs a little more time in the minors before he'll be able to make a difference for the big club.
Melky Cabrera, once thought to be the heir apparent to Bernie Williams, is only hitting .242, and
was recently demoted
to AAA.
After hitting .342 in 2006, Robinson Cano's average has gone down 40 points per year, and is in the .265 range right now. While he's still hitting for a little power, his bat has not been nearly as dependable as the Yankees needed him to be.
Derek Jeter has been hot lately, but earlier in the season, he was downright abysmal. He was batting a career-low .284 at the All Star break, and although he has never been a power hitter, his power numbers were even lower than normal.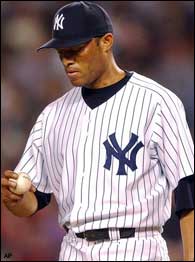 So who's to blame in this mess? One thing is for sure. It's not Mariano Rivera, Andy Pettitte or Mike Mussina. And although he's been an adventure in the field from time to time, Johnny Damon is certainly pulling his weight. Bobby Abreu, Alex Rodriguez and Jason Giambi have been playing as well as anyone could expect.
Although many would tend to blame the manager, I don't think that any of this is Joe Girardi's fault. We haven't seen a lot of contention in the clubhouse, and the Yankees at least give an appearance of cohesion. I believe the problem starts higher than that.
Brian Cashman has always been able to buy the team he wants, and mold the team to fit his (and the Steinbrenners') expectations. But his strategy changed a little this year. The Yankees weren't major players in the free agent market. The most glaring error is that they passed up on Johan Santana, who would have almost certainly gotten them an extra 7-10 wins. The Yankees were determined to shed the reputation of buying championships, even though their payroll still topped $200M, and now they're paying for it.
Unlike previous years, the Yankees simply do not have the depth to recover from the injuries that they've seen, and the deals that Cashman made before the trade deadline were simply too little, too late. Xavier Nady was a good acquisition, but Damaso Marte and Ivan Rodriguez have been less than stellar. Mike Mussina, the Yankees' best starter, doesn't even want to pitch to Pudge, who is widely considered to be one of the all-time greatest catchers.
While injuries have definitely played a huge role, the Yankees' front office has shown that their plan has deteriorated. They are too old, too brittle, and simply not deep enough to be legitimate contenders. If they hope to improve this in the near future, they will need a complete overhaul. We'll see if they're willing to do that.