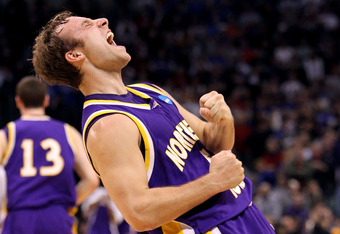 The Northern Iowa Panthers have been easily the best "Cinderella" story in this still-early NCAA Tournament. Other than Cornell and St. Mary's, there is no team for me to root for anymore, and below are a few reasons why I'm choosing UNI as my "team to beat", getting to know the players, and what they are all about - in my mind, at least. We didn't know these guys a week ago, and I'm just glad that they're in the position they are.
For those that have watched the tiniest bit of the Tournament so far, you've probably run into the name Ali Farokhmanesh (FAH-roak-MA-nesh). Ali made the game-winning three pointer in the first round against 8th seeded UNLV. Then, in the huge upset over #1 Kansas, Farokhmanesh makes me even a larger believer, as he hit another three pointer to give Northern Iowa a 4 point lead with about 30 seconds left, eventually becoming the difference in UNI's win. Since those two shots, I have taken the liberty of changing their team name from the Panthers, to the Farokhmanesh-ites. Is it fair to give him the nickname of the team? Yes. But is he the only guy on this team worth talking about? Of course not.
Jordan Eglseder, the starting center for UNI, received his scholarship before they even watched him pick up a basketball - why? He is 7'0'', and the only player taller than 6'9''. Height wins basketball games for UNI. What else does Eglseder have going for him? He looks like a 40 year old man to me when he's out on the floor, and he's balding. For a guy who's also in his twenties, and can see that "line" around my head where I know I'm going to start losing my own hair, he's someone I look up to.
Lucas O'Rear, the backup center has a pair of mutton chops. The best mutton chops that I've seen in the Tournament, and skyrockets over
Dustin McGowan
, who was a week ago, proud owner of the best chops in all of sports. Because of this "Chops Power", and Kalin Lucas' Achilles injury, I don't see how Michigan State can overcome the odds, it's simply impossible.
The Koch brothers (pronounced "Coke") are everything you could want from Wisconsin kids - they're from a town nobody outside the state of Wisconsin can pronounce. Ashwaubenon. Mike (Kantwistaye) or any other Wisconsinite can please pronounce that town name for me - Merriam-Webster was no help whatsoever.
I'm clearly not the only one behind this team, as Michelle Beadle over on ESPN2's SportsNation created a little chant of her own that I'm a little jealous of - only because I didn't think of it first.
"Fa-rok-hma-nesh, they're the best. Fa-rok-hma-nesh, they do more with less."
She understands what the Farokhmanesh-ites have going for them, and after tearing her bracket up (like the millions who already have) can not help but root for this team.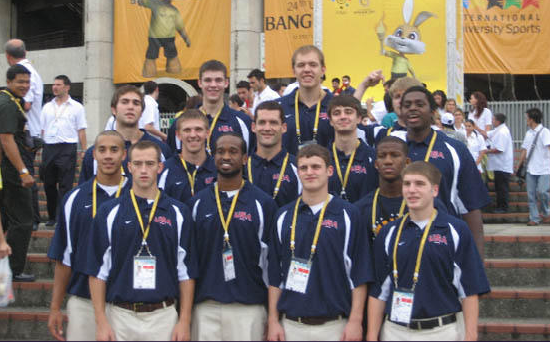 As a white kid from Minnesota, if ever a team that I could picture myself being the 13th guy off the bench, it's Northern Iowa. These guys are not the most athletic looking people out there, and are all from either Minnesota, Iowa, Illinois, Wisconsin, or Missouri. There's no "star" recruit from New York or California or one of those "outsider" states, just all upper-Midwest kids that aren't used to the big times, but have gelled into a Sweet 16 team.
The University of Northern Iowa, is located in Cedar Falls, Iowa. Cedar Falls (a town of 36,000) will not receive much of any coverage throughout the year, and was only known by me before this whole thing as just a suburb of Waterloo. But do you know what that town has now gotten in the few days since their upset over Kansas and stealing the hearts of many? The
Dalai freakin' Lama
. Now while it says he's coming May 18th, and "supp
osedly" it was scheduled
before
Farokhmanesh's shots, I'm guessing he will be there to say hello to Ali and see the mutton chop powers of O'Rear. It's just a hunch.
The Midwest Region is being played in St. Louis, MO, the same place Northern Iowa won the MVC Tournament to earn their way into the tournament. They're flawless there, and will continue to be so. It's something about that arch that scream victory for Northern Iowa.
Obviously, I know it's a long shot for these guys to get past Michigan State and the winner of Ohio St./Tennessee, but last Saturday I saw a basketball team beat what I thought (and many others) to be the best overall team in Kansas - and despite the close score late, it was a dominant performance by those boys in purple. Shooting, rebounding, defense; they know how to play, they are a complete team, and I thin
k will have a serious chance at making it to the Final Four. I wish these players and coaches the best of luck this next week, and I love seeing "bracket busters" like Northern Iowa, Cornell, St. Mary's, every year make the Tournament what it is. Kudos to them for what they've done already, and I'll be rooting for them all the way.